Anyone who loves markets, cafes, flowers, coffee, pretty gardens and just plain coolness will go gaga over the ultra-stylised The Grounds of Alexandria, which is aptly located in the inner-west, industrially Sydney suburb of Alexandria.
Ticking all of the above, this urban sanctuary is Instagram crack, which is exactly how I first discovered the place after moving to Sydney. Beautiful pictures of baby's breath, artfully-presented delicious-looking food and brightly-coloured juices kept popping up in my IG feed, all geo-stamped with 'The Grounds', prompting me to go, "where the F are these grounds because I need to go there?" So I did.
What's the story?
When you're embarrassingly jaw-down mesmerised by the fairy-lit and bougainvillea-clad arbour that houses a big chunk of the said grounds, it's hard to believe that only five years ago this place used to be an industrial car park. Now it's about as opposite from a car storage yard as you can get.
Visiting The Grounds of Alexandria – which even further back, in the 1920s, was an industrial precinct – feels like you've tumbled down the rabbit hole into a pretty playground of life's simplest pleasures. The acre of land is made up of various old worldly sheds, beautiful gardens and things to see and do.
Everywhere you look there's some kind of historic touch woven in too, whether it's old lamps, typewriters or pick-up trucks. Even the stable-themed bathrooms are worth a squiz (whether you need to pee or not). There's also a bold, italic, underline emphasis on sustainability throughout the property with recycled jars used as plant pots and flower beds making themselves at home in rusty wagons and typewriters.
The blueberry on top is that the place is kid-friendly, dog-friendly and husband-friendly, with amusements coming in the form of colouring in paraphernalia and a small playground, a dog parking area and cute coffee carts handing out cups of bribery.
Here's a quick and dirty summary of everything on offer at The Grounds of Alexandria:
Coffee roastery – plus coffee research and education facility. Oh my!
A sustainable permaculture garden of heirloom vegetables, aromatic herbs, fresh fruit and flowers – all of which make a later appearance in your breakfast.
Artisan bakery and patisserie – imagine a rainbow of baked goods from sourdough bread and croissants to passionfruit cheesecake and lime meringue tartlets. You can even order a birthday cake to have within the grounds, or just because you want cake.
Small animal farm – where you can meet Kevin Bacon, Goldy Horn and Margoat Robbie.
Markets – each Saturday and Sunday, 80 vendors sell everything from candles and necklaces to artwork and homewares.
Florist – stocked with the most vibrant, market-fresh flowers you've ever seen, all beautifully-wrapped in recycled paper to take home.
High tea – be all posh with a platter of sandwiches and sweets under the magical arbour. All made from goods from the grounds. Only available Monday–Friday.
Event spaces – you can even have your wedding here. Seriously!
What's to eat?
If you're prone to experiencing rage blackouts from queues, best avoid The Cafe. When Jude and I visited at around 10:45am on a Sunday, it took us 10 minutes to line up to put our name down and another 45 minutes to be seated. However, I didn't mind because we were handed a little restaurant buzzer and instructed to explore the gardens and markets until our buzzer went off. Well, if you insist.
If you don't want to wait, you can also order anything off the seasonally-inspired menu to take-away and enjoy within the confines of the lush garden.
The garden-to-plate menu in The Cafe is filled with all the usuals: smashed avocado, blackberry and apple waffles, brekkie burger, etc; along with kid-friendly choices, like pasta and burgers; and the drinks menu is made up of organic teas, seasonal blend and filtered coffee, freshly-squeezed juices and house-made sodas.
Jude's deconstructed mocha pretty much sums up the story: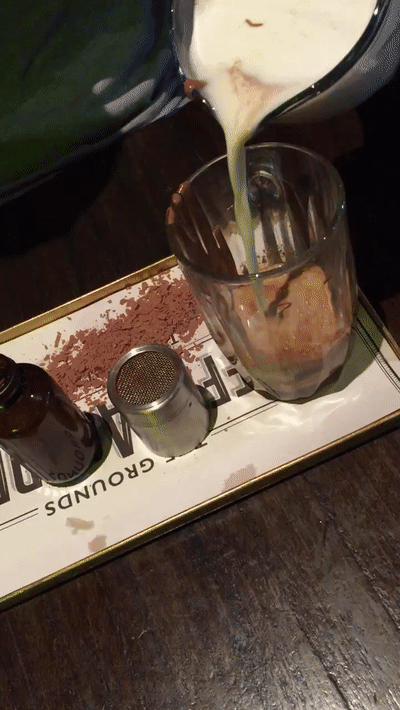 Then there's also The Potting Shed, which is The Grounds' 'local watering hole', serving up a winning combo of lunch and dinner food, booze and snacks. Sitting amongst the hanging plants and timber beams, you have to try the 'shed platter' of meats and cheeses, plus a Mello' Poppins cocktail. Or go crazy and settle down with a magnum of champagne, capturing the moment with the shed's Instagram printer.
Spread throughout the grounds, there's also plenty of little wooden carts selling all kinds of food-to-go, such as fresh juices, burgers and spit-roasted meats. I grabbed a freshly-made Nutella doughnut, while we were waiting for our buzzer to go off, so I didn't pass out from hanger.
Where to park
Navigating the main parking lot (entry is off Bourke Road) is intense and truth be told we ended up parking illegally. The fact that there are fluoro-vested traffic controllers within the car park tells you a lot. I'd recommend using the overflow car park located at 51 Bourke Road just to avoid the Toyota tango in the first place.
Otherwise, if you're coming via train, it's a 12-minute walk from Green Square Station (or a 20-minute walk from St Peters Station).
The Grounds of Alexandria is…
The Grounds of Alexandria is a destination. There's not a lot else around to justify being in the area, unless you're into factory outlet furniture shopping. Yet, there's a reason why it's always ridiculously popular and the most photographed food venue in Sydney. With its elegant fountains, ample photo opportunities and just all-round stylised prettiness, you're guaranteed to have a major moment here. That's if you don't mind navigating crowds and the fact that there's more photo-taking here than on the steps of the Sydney Opera House.
The Grounds of Alexandria | 7a/2 Huntley Street, Alexandria, New South Wales
Phone: (02) 9699 2225
thegrounds.com.au