I need to preface what I'm about to write. My husband has many qualities. Organisation is just not one of them. He struggles to organise any kind of gift-giving (let alone remembering birthdays; his included); if he stays anywhere on a school night he has to go dressed in his suit, shoes and tie for the next day otherwise he'll forget something; and he has organised a total of zero holidays in the seven years we've been together. So when he offered to organise a surprise weekend away, I naturally thought, 'who the fuck are you?'
Stupidly, my expectations for this weekend were higher than Sydney Tower. I was imagining that we'd be spending the weekend in a tree house in the Blue Mountains or some ocean view cabin at Jervis Bay or perhaps a boat on the harbour. That would have been nice.
So when I realised that we were driving to Canberra, I'm not going to lie, I was a little disappointed. Especially when he formally advised that this was not a romantic weekend but a "nerd out". Yay me.
Already on the M5, I was left with little choice but to embrace my inner nerd, (and also slip in some food and wine activity amongst the culture class). Here's what we did and I'd be lying if I said we didn't have a fabulous (albeit random) weekend.
The Sydney to Canberra drive
Just shy of 300 kilometres, the Sydney to Canberra drive takes around three hours (depending on how swiftly you can escape the grid lock that is Sydney).
Canberra reminds me a lot of my home city of Adelaide in that it's a bit like a pinata – you need to crack the surface to get to the good stuff. Underneath Canberra's cultural institutions and incredibly wide boulevards are some cool little bars, fantastic displays of seasonal produce and a greater sense of nation waiting to be uncovered.
Words officially eaten.
Where to stay in Canberra
We stayed at the brand new Vibe Hotel Canberra Airport, which is 50 metres from the airport terminal – a dream if you flew into Canberra. We drove. However, the accommodation is ultra new, the rooms are well appointed and the downstairs atrium-style bar and breakfast area is a popular place. It's about 10 minutes from the central business district, and if you don't have your own vehicle there's lots of Ubers lurking about to quickly ferry you into the CBD (for around $20).
More…
Other pillow-friendly places that Captain von Google recommends are QT Canberra, Hotel Hotel, East Hotel, Avenue Hotel Canberra, Hotel Kurrajong and Hyatt Hotel Canberra.
What to do in Canberra
Australian War Memorial
The Australian War Memorial is a chronicle of the stories, sacrifices and strategies behind every wartime conflict that Australia has been involved in, with wings dedicated to World War I and World War II, along with the Boer War, Korean War and Afghanistan. It's as educational as it is emotional, and despite the fact that you might need some tissues, it's an absolute must do.
Australian War Memorial | Treloar Crescent, Campbell, Australian Capital Territory
awm.gov.au
National Museum of Australia
Another stop on the cultural circuit, Australia's national museum tells the story of Australian history through interesting and interactive exhibits. This architecturally-interesting museum sits on the banks of Lake Burley Griffin, so offers some pretty interesting water views too.
National Museum of Australia | Lawson Crescent, Acton Peninsula, Australian Capital Territory
nma.gov.au
Parliament House
See for your own eyes where all the great political debates happen, along with the horribly-dated green-upholstered House of Representatives and salmon-coloured Senate. It's best to time a visit for when parliament is sitting to see some real action, otherwise the hallways are incredibly ghost-like – no Tony, Malcolm or Pauline sightings the day I was there. The portraits of political greats of past were as close as I got to a politician.
Parliament House | Parliament Drive, Canberra, Australian Capital Territory
aph.gov.au/Visit_Parliament
Diplomatic Estate in Yarralumla
On the drive to Canberra, the realisation that we'd be able to tour the embassies and high commissions of 33 foreign countries prompted a thigh-slap from my nerd-of-a-husband. I'm not too sure it's thigh-slapping worthy but the self-drive loop to see the adopted architectural styles of each country is interesting nonetheless.
Yarralumla Diplomatic Estate Driving Tour
nationalcapital.gov.au
Canberra wineries
I feel it's quite fraudulent to call these palaces of wine Canberrian, as most technically reside in New South Wales but who am I to buck popular opinion. We visited Mount Majura Vineyard, Lerida Estate and Lark Hill Winery. The latter is absolutely worth a lunch layover. But there are another 140-odd cool climate small wineries in the district equally worth visiting.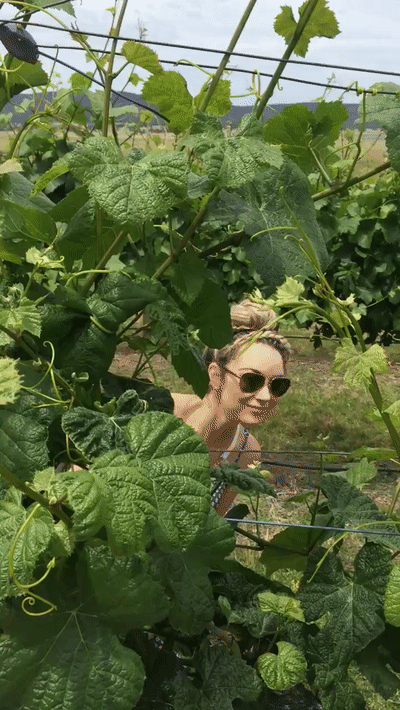 More things to do in Canberra…
A few other things that we didn't do but would have liked to of if we weren't running to a stopwatch were:
Where to eat and drink in Canberra
Canberra's bar and food scene is impressive, and definitely a lot more vibrant than my homeplace of Bronte on a Saturday night.
Aubergine
One of Canberra's finest dining experiences, Aubergine tops my list of best eats in 2016. It's. That. Fricken. Good. The $90 four-course modern Australian tasting menu, which includes complimentary starters and bread, is an inspired masterpiece by chef and owner Ben Willis that inventively pairs the freshest of locally-sourced in-season produce.
Here's a full blog post detailing what we ate.
Aubergine | 18 Barker Street, Griffith, Australian Capital Territory
aubergine.com.au
Molly
If you can find this place (it's hidden down a nondescript stairwell, behind a concealed wooden door in the bowels of the city) you will be treated to a true prohibition-style experience and a brilliant display of cocktail making. Molly also offers meat and cheese boards for the meat and cheese fans among us.
Molly | 35 London Circuit, Canberra, Australian Capital Territory
molly.net.au
Rye Cafe
This scando-style brunch spot can be found on Braddon's main eat street, Lonsdale Street. It's a popular one with its avocado and poached eggs on rye, bacon and egg brioche roll and Five Senses Coffee.
Lonsdale Coffee Roasters is another good brunch spot a few doors down, although less scando and more gritty.
Rye Café | 9 Lonsdale Street, Braddon, Australian Capital Territory
ryecafe.com.au
Zaab
Serving up Lao-Thai street food, this Lonsdale Street restaurant has plenty of personality. There's banging beats, displays of Asian Red Bull, lots of delicious-smelling share plates and even a guy playing the trumpet.
Zaab | 9 Lonsdale Street, Braddon, Australian Capital Territory
zaabstreetfood.com.au
More places to eat and drink in Canberra…
Here's a few more restaurants that were recommended to us but that we didn't get to:
eightysix – $86 for all you can eat.
Pialligo Farmhouse – a beautiful venue with a beautiful menu.
Capitol Bar and Grill – housed within QT Canberra hotel, this one is for anyone who loves a good steak and cocktail.
Water's Edge – a Modern Australian menu, white tablecloths and lakeside views.
Monster Kitchen and Bar – enjoy share plates in this industrial-style maze of a restaurant that takes over the ground floor of Hotel Hotel.
Kingston Foreshore – Canberra's equivalent to Sydney's Darling Harbour, find plenty of waterside restaurants here. Just instead of looking out across Sydney Harbour you get the man-made, anything-but-small Lake Burley Griffin.